In the past, Unions have accomplished the 40-hour work week, paid vacation time, paid sick leave, health care benefits and a dignified retirement. Now that many of us are enjoying these benefits, why do we still need Unions?
Unions even the playing field for all workers by standing up against greed and injustice in the workplace. In the dreaded year of 2020, the ratio of CEO-to-typical-worker compensation was 351-to-1.
The people at the top place profits over people and will continue to exploit workers for monetary gain. Unions fight against that.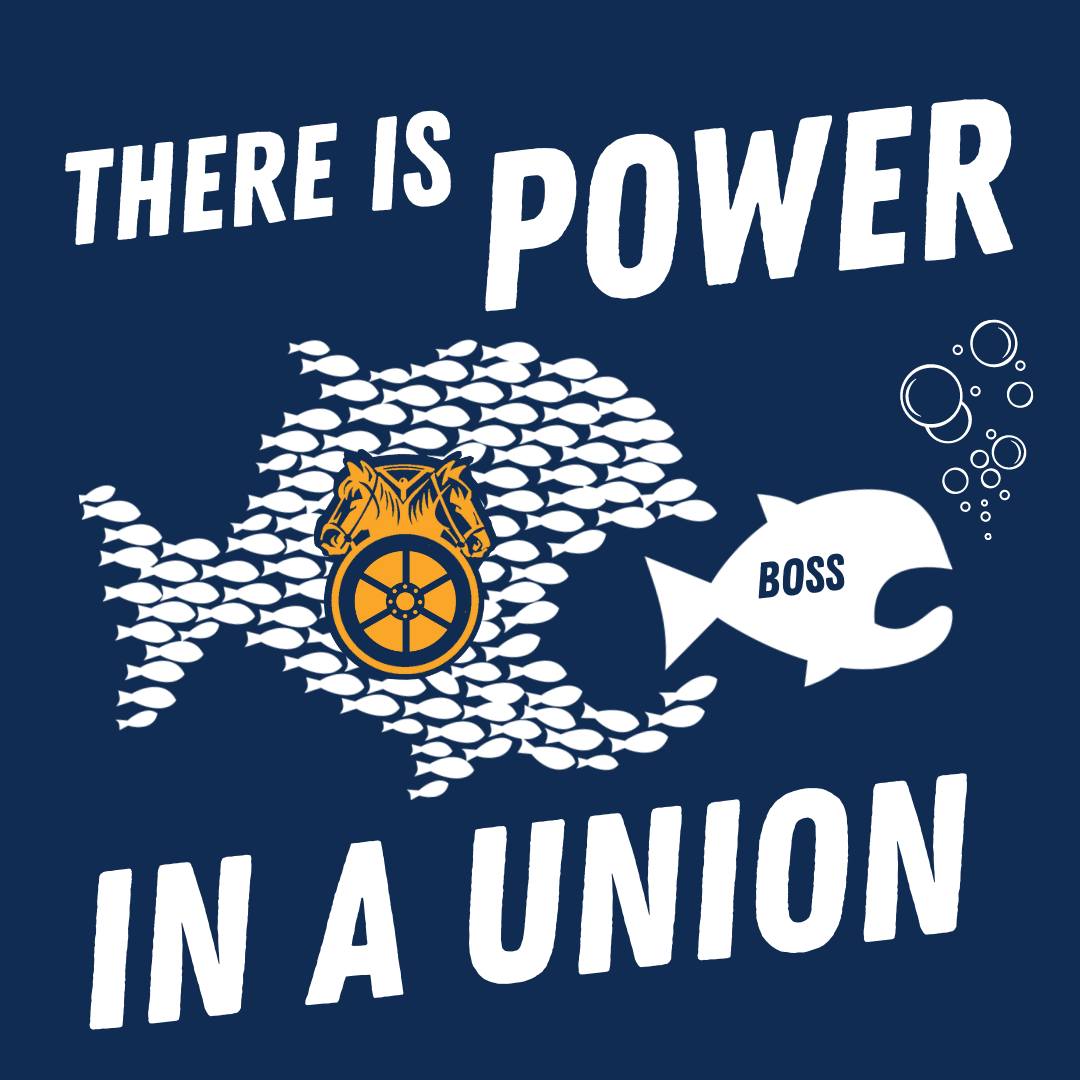 As a member of the Teamsters, you are part of a 1.4 million member strong brotherhood that is bargaining to raise the standard of living for all working families. We believe everyone deserves a fair return for the value of their work - we just need your help bargaining for it.
Right to Work laws and the Janus Decision have tried to weaken Unions in order to - you guessed it - exploit workers and make more money. If half of your coworkers refuse to join the union, we appear weak at the bargaining table and will not be able to win strong contracts. Strength is in numbers, especially in the case of union membership.
As a dues-paying member, you are able to:
Attend Union meetings

Have a voice in regard to your working conditions, pay, health care benefits, and retirement

Vote on whether to accept or reject a labor contract

Vote to strike

Vote on matters concerning your rights in the workplace

Elect union leaders

Serve as a shop steward workplace leader

Run for elected Union office

Join the Teamsters Council 37 Credit Union and benefit from their great rates

Apply for Teamsters scholarships, as well as your children and grandchildren

Gain access to discount programs for home mortgages, travel, credit cards, and recreational events

$3,500 cost free AD&D benefit
Read on for more ways union membership makes a positive difference for working families like yours.
Livable Wages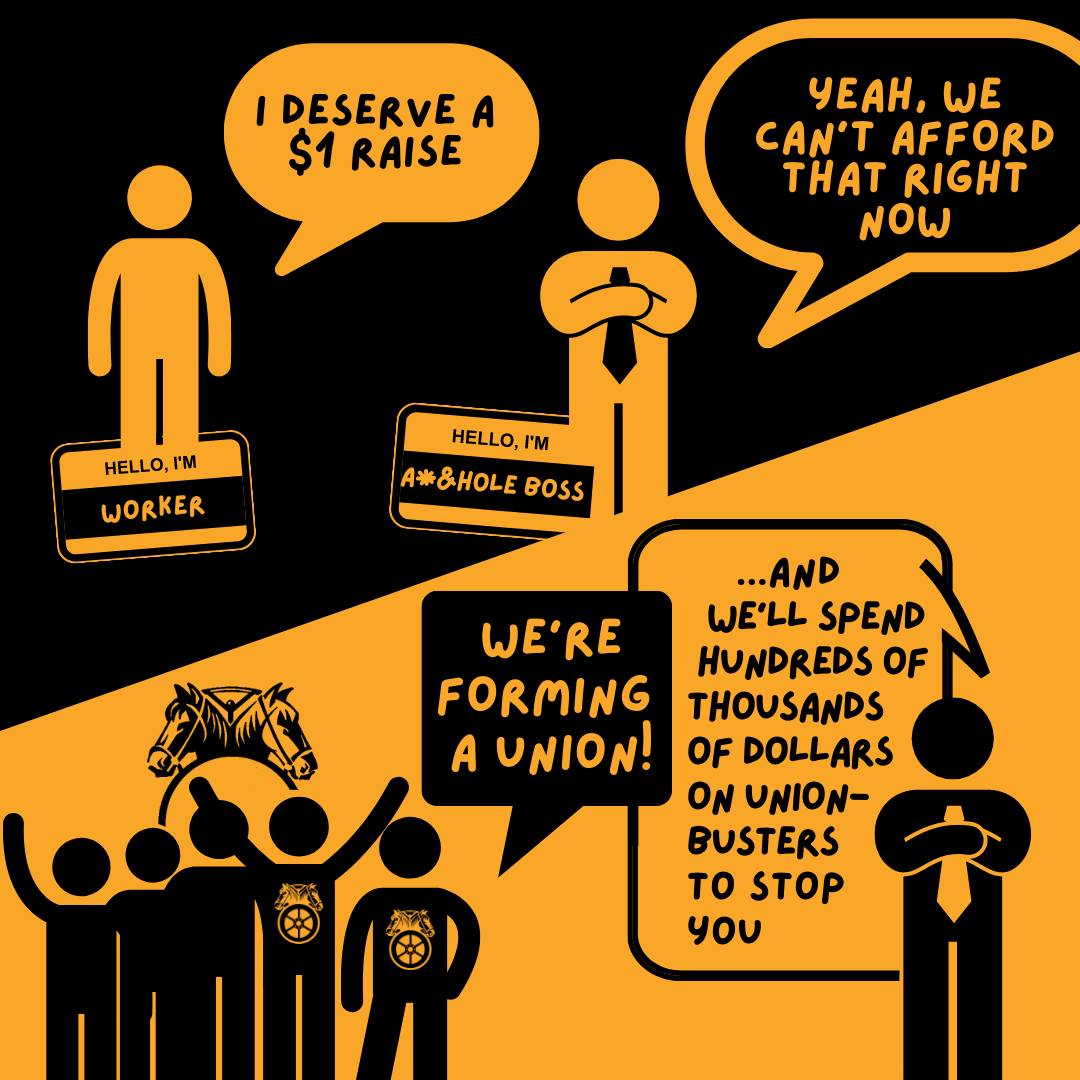 Unions fight to win their members livable wages. Data from the Bureau of Labor Statistics proves that Union members earn higher wages, on average, than non-union members in similar industries and occupations.
The most recent data collected in 2020 shows that the median weekly wage rates for union workers were nearly 18% higher than nonunion workers' wages. These union workers made about $10,000 more per year than their non-union counterparts.
Unions also help narrow the race, gender, and public sector wage gaps, with the ultimate goal of income equality for all.
Job Security
As a Union member, you are protected from discrimination and favoritism on the job. You have seniority protection and cannot be terminated without just cause.
According to the Bureau of Labor Statistics, job losses were much greater for non-union workers in 2020 when the COVID-19 pandemic hit the US.
Health and Welfare
Source: Economic Policy Institute / U.S. Bureau of Labor Statistics, National Compensation Survey 2019
Companies and corporations care about profits; Unions care about people. As a Union member, you are much more likely to have access to health care benefits as well as sick time, which have both proven to be crucial in recent years.
Union members also pay less, on average, for their healthcare benefits and have superior plans.
Retirement Benefits
Unions believe in a fair return for the value of work, which includes quality of life after your working years are over.
As of March 2019, 94% of union workers had access to retirement benefits through their employer, compared to only 67% of nonunion workers.
Union workers are also much more likely to have a defined benefit plan, or pension (a lifetime benefit), rather than a 401k. This is significant because a pension plan is funded by the employer, while a 401k is primarily funded by the employee.